November 15th, 2023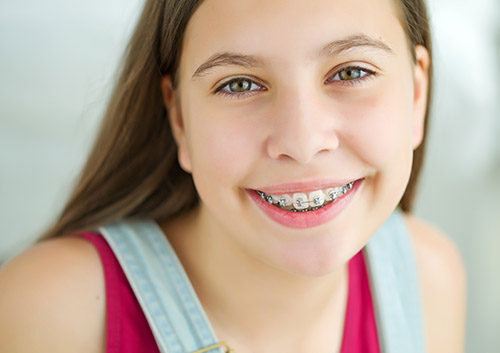 By and large, the human body is a marvel of symmetry. But, of course, no one is perfect. You might have noticed one ear is a bit higher than the other. That you wear a shoe a half-size bigger on your left foot. That one shirtsleeve always looks longer.
Or that your smile looks off-center. This dental asymmetry could be caused by a condition known as "midline misalignment," and, unlike that left foot, you can do something about it!
The dividing line between our center teeth, upper and lower, is called the midline. If we draw an imaginary line down the middle of a face, from the forehead to the nose to the midpoint of the chin, that line should go right between the front teeth. When it doesn't, because the teeth have shifted past the midpoint, it's often due to a condition called midline misalignment.
This kind of misalignment, also known as a deviated midline, can have several causes:
Baby teeth that are lost too early
Baby teeth do more than promote healthy eating and speech development. They also reserve space for permanent teeth. If a primary tooth is lost too early, permanent teeth might "drift" to fill the empty space, causing the midline to move as well.
Thumb sucking that goes on too long
As a child gets older, and certainly when by the time permanent teeth start to arrive, aggressive thumb sucking can lead to numerous orthodontic problems, including a deviated midline, as the teeth shift in response to that continuous pressure.
When you lose a tooth through decay or trauma, or when an adult tooth simply never develops, the remaining teeth can shift over to fill the open spot.
Crowded teeth, teeth with significant gaps between them, very large teeth, very small teeth—all of these issues can affect spacing and midline alignment.
A crossbite is a kind of malocclusion, or bite problem. When you have a crossbite, the teeth don't fit together properly, with upper teeth fitting inside lower teeth, instead of aligning on the outside where they belong. A deviated midline can indicate a posterior crossbite, where the top back teeth slant inwards or fit inside the bottom back teeth.
A tiny bit of midline shift one way or the other might be nothing to worry about, but if one front tooth is literally the center of attention, or if your teeth are noticeably out of alignment, it's a good idea to talk to our Visalia, or Tulare orthodontic team.
Because there are several potential causes for midline misalignment, Dr. Wesslen will carefully analyze your individual situation to determine where the problem lies: with the teeth, the bite, or, rarely, the jaw itself.
Dr. Wesslen will also offer you your best dental treatment options. A shift of a few millimeters might be treated with clear aligners or traditional braces. A crossbite could require braces or aligners coupled with elastics (rubber bands) to bring your bite into alignment. A palatal expander can help correct a serious crossbite.
Why visit Wesslen Orthodontics because of a little asymmetry? Because a deviated midline is more than a cosmetic concern. If you have a malocclusion to begin with, or if your misalignment leads to changes in chewing habits, which cause new bite problems, you might be facing jaw pain, chipped and cracked teeth, headaches, and all the other unpleasant consequences of malocclusion.
By and large, perfect symmetry in life is unattainable. But if you want a smile that is well-balanced and healthy, talk to us about all the treatments available to make sure your smile—and not a single tooth—is the center of attention.